A base material of copper or aluminum foil combined with an insulating film is etched to create the desired antenna circuit pattern. UACJ Foil supplies IC tags across a wide range of frequencies, from 13.56 MHz to 2.45 GHz. IC tags are projected to replace barcodes due to their capability for contact-free inventory management.
* Note: This product was jointly developed with a major RFID (radio frequency identification) manufacturer.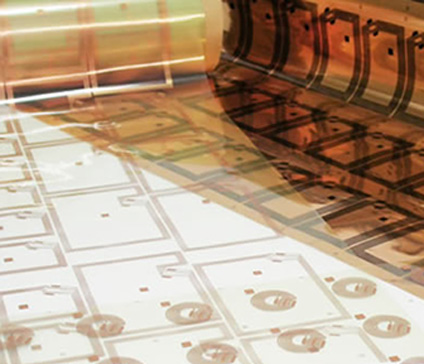 Benefits
Product designs can employ aluminum or copper (rolled or electrolytic) foil.
Patterning methods can be tailored to reflect quantity and precision requirements.
Roll-to-roll production helps reduce costs.
Construction (example)

| | |
| --- | --- |
| Metal foil | Rolled copper foil, electrolytic copper foil, aluminum foil |
| Circuit width | 0.20 mm or more |
| Interval between circuits | 0.15 mm or more |
| Circuit pitch | 0.35 mm or more |
The values above represent patterning accuracy using gravure printing. More precise patterning is available using other methods.
Applications
Logistics (supply chain management)
Traceability
Inventory management
Theft prevention
Automatic register scanning
Contact Us