Packaging Materials for Foods
Aluminum foil does not negatively impact foodstuffs, and helps maintain quality and ensure hygiene. UACJ Foil's stringent quality controls and advanced printing and processing technologies result in packaging that ensures food safety.
Aluminum helps retain aromas and keep out light and moisture. It is also easy to process as a packaging material and well suited for machining. In addition, our aluminum foil garners praise from customers for its beautiful appearance and decorative qualities.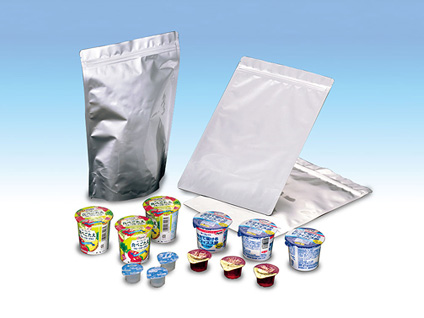 Applications
UACJ Foil's aluminum rolling and alloy technologies deliver high-strength, uniformly thick aluminum foil optimized for packaging materials.
| | |
| --- | --- |
| Snack products | Chewing gum, candy, chocolate, cake, ice cream, pudding, gelatin, other snacks |
| Dairy products | Cheese, butter, margarine, yogurt |
| Beverage products | General beverages, lactic-acid beverages, milk, soy milk, health drinks, alcoholic beverages, coffee, tea, green tea, oolong tea, fresh cream, powdered beverages |
| Other | Instant foods, soups, seasonings, frozen foods, dried foods, emergency rations |
Contact Us