Overview and History

Member of the UACJ Group
A global leader in the manufacture of aluminum products.
UACJ Foil was created in January 2014, through the merger of Nippon Foil Manufacturing Co., Ltd. and Sumikei Aluminum Foil Co., Ltd. It now handles foil operations of the UACJ Group.
The UACJ Group is a world-leading aluminum consortium. UACJ Foil leverages the Group's production networks to supply high-quality metal foil products worldwide.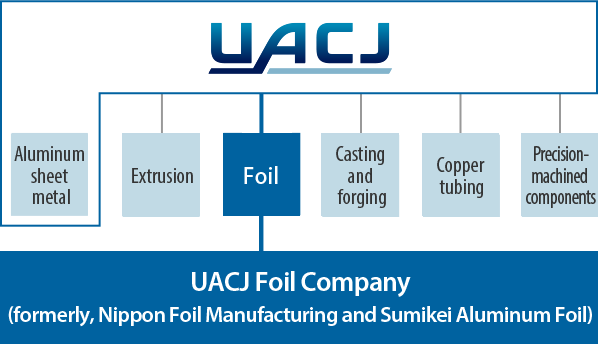 A world-class manufacturer of rolled aluminum.
Leading the way in the aluminum products market.
UACJ is a manufacturer of aluminum products with the third largest capacity for production of rolled aluminum products of any group worldwide. Based on economy of scale and our desire to excel globally through cost competitiveness, Japanese-based UACJ Group leads the way in the aluminum market.
Aluminum Sheet Production Capacity Rankings
(1,000s t/yr)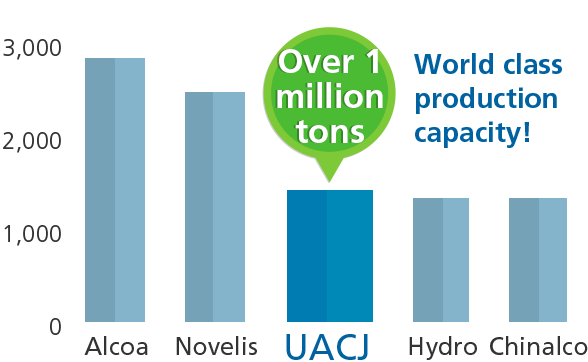 Market and Products
From everyday products to cutting-edge solutions
UACJ Foil is active in a wide variety of fields.
UACJ Foil is a comprehensive metal foils manufacturer, with roots in rolled tinfoil manufacturing. In addition to aluminum foil, we manufacture and sell a variety of other metal foils, including those made of copper, tin and lead. We use hot-rolling, alloying and finishing technologies to expand the possibilities of metal foil, supplying a wide range of products to a variety of markets.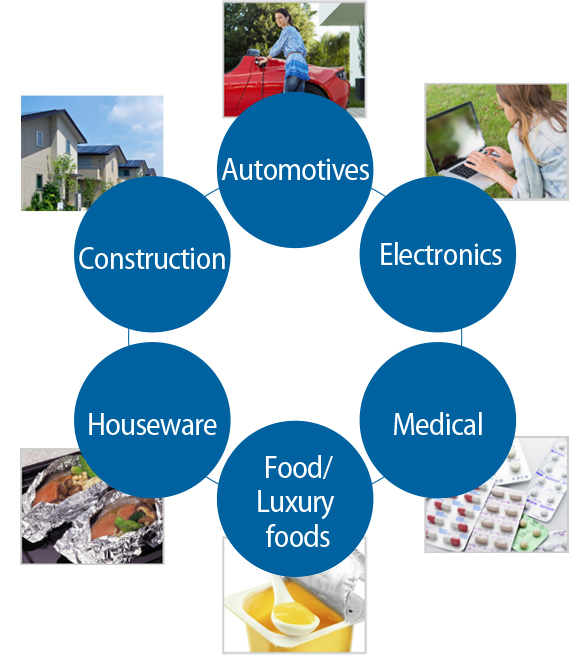 Japan's leading foil manufacturer.
Aluminum and copper foil for lithium-ion batteries.
Lithium-ion batteries are used in a wide variety of applications, from electronics such as smartphones and computers to electric vehicles. These batteries utilize aluminum foil on the cathodes and copper foil on the anodes. As Japan's leading metal foils manufacturer, UACJ Foil produces both the aluminum and copper foils. Our advanced alloying and rolling technologies also allow us to contribute to the creation of more powerful, lighter and longer-life lithium-ion batteries.
Technology and Quality
Advanced production technologies and strict quality control
UACJ Foil is a world leader in computerized shape-control systems and other quality-control equipment. In order to deliver high-quality, high-precision products, we continually develop sophisticated, cutting-edge production technologies and quality management systems.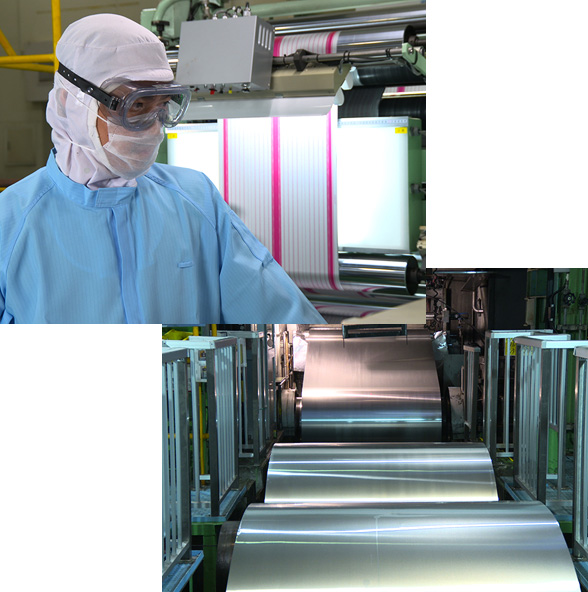 Strict quality control that conforms to GMP standards
Foodstuff and medical instrument packaging requires exceptional sanitation and quality control. All our systems, processes and equipment conform to strict GMP (Good Manufacturing Practices) standards for medical/pharmaceutical manufacturing and quality control. For example, air showers, cleanrooms and separate booths for individual processes ensure that no foreign substances are introduced to these environments.